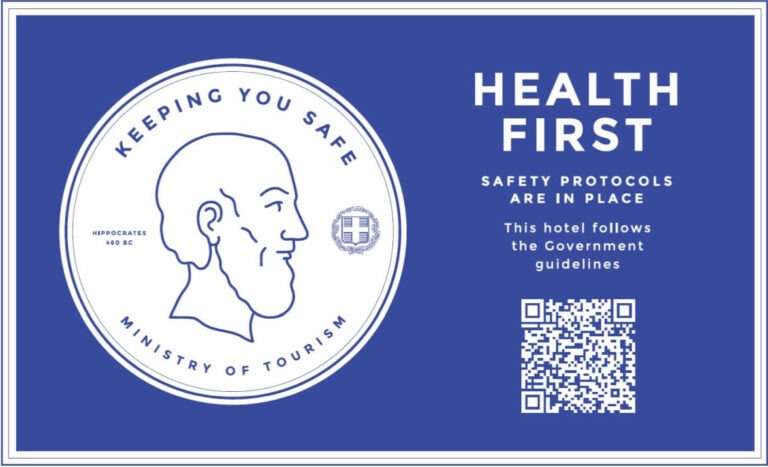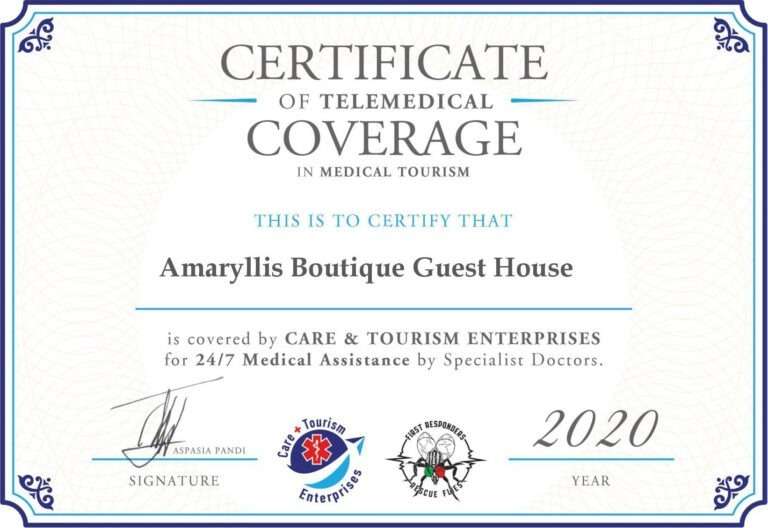 Covid 19 – Protective Measures
Λόγω της επείγουσας υγειονομικής συνθήκης που οφείλεται στον COVID 19, έχουμε εφαρμόσει όλους τους επίσημους κανονισμούς  των Υπουργείων Υγείας και Τουρισμού για να προστατεύσουμε την υγεία και την ασφάλεια των επισκεπτών και του προσωπικού μας, διασφαλίζοντας παράλληλα ότι θα συνεχίσετε να έχετε μια ευχάριστη διαμονή. Διαβάστε παρακάτω τους πιο σημαντικούς από αυτούς τους κανονισμούς. Είναι ένας ολοκληρωμένος οδηγός για το τι να περιμένετε κατά την άφιξή σας και κατά τη διάρκεια της διαμονής σας.
General 
Our property (including staff, reception and public areas) is cleaned daily according to official protocols.

Hand sanitizers are available throughout the hotel.

Face masks are available upon request to be used by guests if they so wish.

All furniture have been re-arranged to provide officially requested distancing. Please practice social distancing of 1.5 meters (5 feet) as much as possible at all times.

All staff has been supplied with personal protection equipment.

Health of our staff is being monitored with daily temperature checks.
Arrival/Departure
Doors throughout property will be kept open for as long as practically possible

Hand shaking is part of the Greek warm hospitality culture, but we will use alternative, no physical contact greeting and you are kindly urged to do the same.

Arrivals and departures will be timely arranged so each guest can safely social distance during their check-in and check- out process.

Check-out time is officially set at minimum 3 p.m. and check- out time at maximum 11 am to allow for proper cleaning and sanitizing.

Room keys are sanitized using approved disinfectant.
Staff Training
Our staff has been trained in full compliance with approved protocols.
 Rooms 
Magazines have been removed.
Your room is sanitized prior to your arrival with particular attention to
Door and drawers handles

Desk, table, lamps and chairs

Switches

Curtains

Wardrobes

Phone, TV and TV control

Litter bins

Hairdryer

Shower

Cups and Glasses

Fabric areas (including pillows) will be sanitized with the use of steam at 70 plus degrees Celsius.
 Housekeeping
Housekeeping services will be offered strictly and only according to guest preference as follows:
Daily Refresh Service: Our team will access your room once daily to provide make-up service.

Linen Service: Our team will pick up and drop fresh linen, towels and amenities upon request.

No Service: Our team will not disturb your stay with housekeeping service, in case you prefer it.
Laundry protocols for towels and linens comply with guidelines regarding temperature and recommended detergents. 
Breakfast 
Breakfast will be served in the open-air patios and yards although indoor serving (in our breakfast lounge) will be still possible upon request and on strict social distancing rules. Tables and chairs will be sanitized after each use.

We do not serve buffet breakfast. Since our launch in 2009 we serve a fresh home make breakfast with highest quality ingredients.
Activities 
All Outdoor Αctivities will continue to be available.

Our activities partner, Trekking Hellas, the biggest and most prominent outdoor activities company in Greece has in effect a fully compliant health and safety protocol published in their website (trekking.gr/location/zagorochoria/) and available also by us upon request.
These protocols and measures are constantly being reviewed and adapted according to the latest official guidance about COVID-19. 
We wish you a pleasant stay! 
The Management team